Which are the best beaches in Torbay?
Our guests at Coast Holiday Homes often ask us which are the best beaches in Torbay. It is not easy to recommend just one or two because we have so many favourites. It also depends on what you want to do there, the time of day and the season.
Choose the best for you
There is such a fabulous choice of beaches in Torbay, that it is known as 'The English Riviera.' With over 22 miles of coastline and at least 20 beaches to pick from, you will need a bit of help narrowing down your options so that you can choose the best for you.
Each beach in Torbay has a unique character and charm. Ranging from scenic, child- friendly, pebbly and sandy to dramatic, cliff lined stretches and hidden coves. Whatever your plans are, there is a beach for you.
Ask the locals
Having lived in Torbay in South Devon for years, we have lots of useful local knowledge to share with our guests. We have always enjoyed exploring the coastline on foot, by boat or paddle board, discovering beautiful beaches along the way.
Owning a dog and having kids now means we often head to family-friendly beaches in Torbay. We are mostly building sandcastles or devouring ice creams, as well as paddling and rock pooling, and enjoying long lazy days at our beach hut on Preston Sands.
After much family discussion, we have narrowed it down and chosen our 5 Best Beaches in Torbay:
1. Broadsands Beach, Paignton (pictured above)
Broadsands Beach is for those who prefer a sandy beach in a natural, rural setting. 
Backed by colourful beach huts, a promenade and countryside, Broadsands Beach is a scenic stretch between Brixham and Paignton. It is one of our favourites and popular with our guests staying at Shore Shack and Captain's Rest in Brixham, as well as the Galmpton bungalows and April Cottage. 
As the sand gently slopes into the calm sea, our kids love paddling here in the shallow water, filling up buckets with seawater and making sandcastles. On a warm, summers day, it is perfect for swimming, kayaking, paddleboarding and sailing. It is worth noting that there is no lifeguard. If you time it right, you may also see the Dartmouth steam train passing by from the beach.
Behind the beach is a large grassy area, ideal for ball games and where dogs can have a run around. There are even a couple of cafes for an essential ice cream or coffee fix.
If you are up for a challenge, walk here along the Southwest Coast Path and you will be rewarded with gorgeous sea views along the way. If you prefer to go by car, it is easy to find and there is a car park just behind the beach, so it is convenient.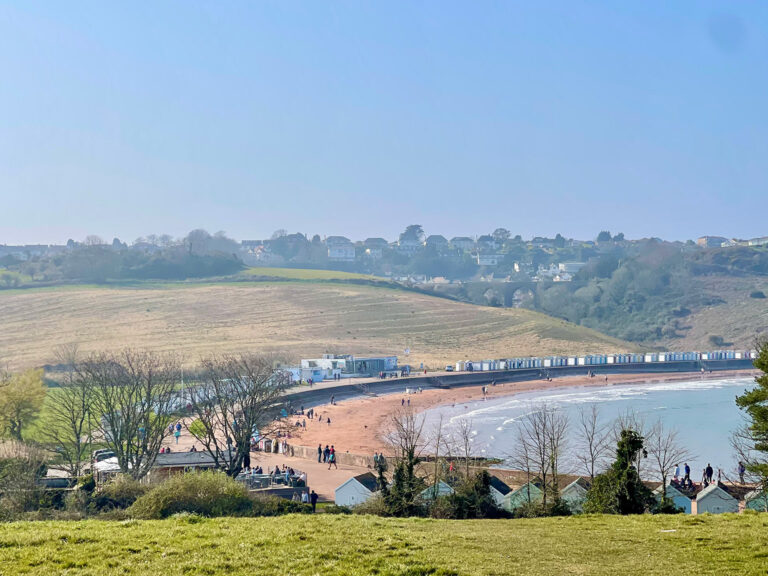 2. Breakwater Beach, Brixham
Breakwater Beach is an all-round family favourite of ours. This pretty, pebbly beach next to the picturesque fishing town of Brixham, makes it to the top 5 for a few reasons. 
Firstly, it is easy to get to and that is a huge plus point when you have little ones. Breakwater Beach is situated next to Brixham harbour so you can easily arrive there by boat, on foot or by car (there is a car park just above it). For our guests staying in Shore Shack and Captain's Rest, Breakwater beach is a convenient walk away. You can even arrive by ferry from Torquay Harbour.
Secondly, the wonderful Breakwater Bistro is situated just above the beach. Family run, it has a friendly atmosphere, delicious, fresh sea food, ice creams and spectacular views across the bay. 
Thirdly, Breakwater Beach is a blue flag beach, so it is safe and environmentally friendly. It's clear water is ideal for swimming. It is also popular for scuba diving. It is the place to spot fish, seagrass and even seahorses. You can often catch sight of seals here popping up out of the water. 
Lastly, the beach lies beside Brixham's bustling harbour, shops and cafes with its thriving fish market, so there is plenty to explore nearby.
10 minutes' walk from Breakwater Beach is Shoalstone Seawater pool. It is one of a few remaining lidos in the country and the most scenic. Dating back to 1896, it is built in a spectacular location on a natural rock pool overlooking the sea.
Remarkably, it costs nothing to swim in Shoalstone Seawater Pool, although donations are welcome. And it is well run. Showers, changing huts and a lifeguard all make it an attractive option for families. We like to make a day of it and bring a picnic or buy snacks from the little café there.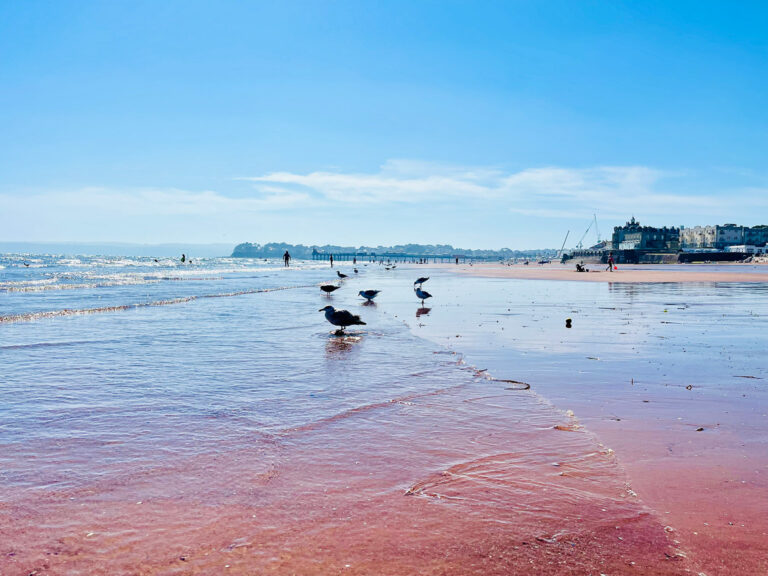 3. Preston Sands in Paignton
For sandcastles, crabbing, surfing and general seaside fun, Preston Sands beach in Paignton is the best.
Preston Sands is a long stretch of terracotta coloured sand. The beach is framed by pretty, traditional beach huts and colourful refreshment kiosks, all dotted along the promenade out to a pier. There is plenty of space for everyone to find a good spot on the beach, even on warm, sunny, summer days. 
The softly, shelved sand leading into the waves means that paddling in the sea here feels safe for young children. The water is clean too so it is great for swimming or paddleboarding when it's calm, which it usually is. When the east wind blows, my kids can't wait to get out on the waves for a bit of bodyboarding. If the conditions are right, the waves can be excellent for surfers and kite surfers too.  
Parking is easy but if you prefer a more scenic approach, active types can reach Preston Sands by way of the Southwest Coast Path which connects to the Preston Sands promenade. If you are staying in April Cottage, it is an easy 20-minute walk to Preston Sands via the aptly named Sands Road. For our guests in Galmpton, it is a 15-minute drive or hours walk on the coastal path.
Our children can spend hours happily exploring rock pools for crabs and other sea life at the northern end of Preston Sands. There is even a playground with climbing frames, a basketball court and outdoor fitness equipment, so there is plenty to keep everyone busy.
For a beachside treat, we head to The Boathouse Bar and Grill overlooking the water's edge for mouth-watering food, a welcome drink and stunning views looking over the sand.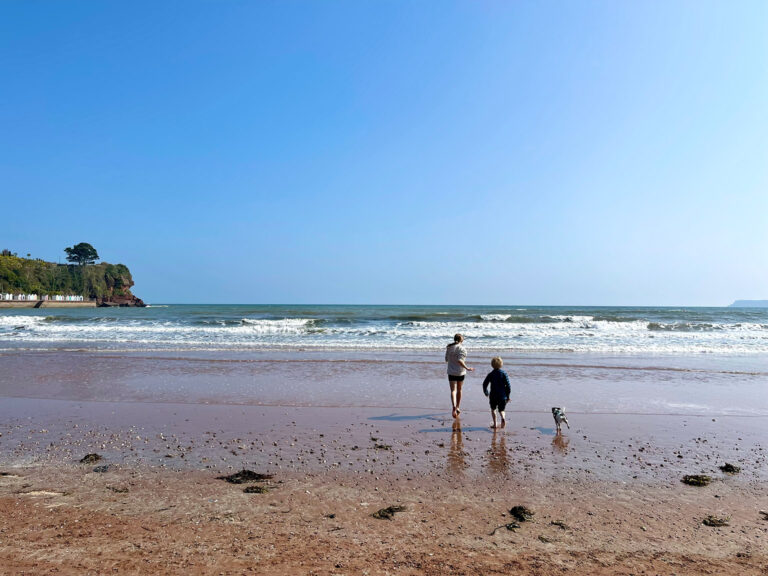 4. Goodrington Sands in Paignton
Goodrington Sands is a classic, long, sandy beach with plenty of buzz and fun entertainment options. We love it and have great memories of long summer days there with friends and family.
For anyone staying in April Cottage, it is just 15 minutes' walk away. Other guests in Torbay can get there by car as parking is easy or go on foot via the Southwest Coastal path.
Like Preston Sands, the shallow waters here make it ideal for those with young children who can happily paddle here.
Just behind the beach, there is so much going on. You will spot the Dartmouth Steam Train rolling by. Youngs Park is here too for crazy golf, a boating lake, playpark, amusement arcade and ice creams.
For fantastic water slides and fun, try the Splashdown Waterpark at Quaywest.
If you bring your dog, then head to the north side of the beach, as you will be welcome all year round there (southside only out of season).
 Head to the wonderful Cantina Kitchen and Bar for great food, drinks, live music and a relaxed beachside vibe. Dogs and kids are very welcome.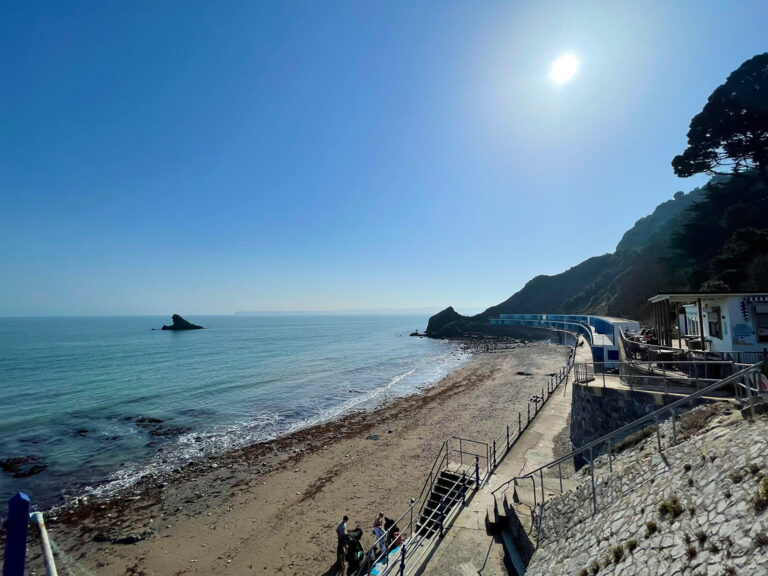 5. Meadfoot Beach, Torquay
Meadfoot Beach is a gentle, curved pebble and shingle stretch below a row of blue and white beach huts, it is ideal for paddling and exploring rock pools when the tide is out and really popular with sea swimmers.
It is a blue flag beach so the water quality is excellent. It is never busy, which we prefer, as we can always choose our favourite spot to set up camp. Furthermore, the north part of the beach is dog friendly year round, so we can take ours with us (and she adores it too).
Snacks and drinks from The Meadfoot café, just above the beach is an easy-going affair. It is a lovely spot overlooking the bay on the terrace. 
Part of the attraction of Meadfoot beach for us is getting there. We like to walk via the stunning southwest coast path. Take this path and it connects you to Torquay harbour via Daddyhole Plain, admiring panoramic sea views on the way.
You can also drive and park along the roadside or at the car park at the north end of the beach.
There are more wonderful beaches in Torbay which we would encourage you to explore during your stay. They are all within easy reach of our holiday homes in Torbay. Read more about where are Coast Holiday Homes are located and book you stay directly on our website.